Some people know what they want to do when they grow up, and others serendipitously find their calling through their life experiences. Sarah Currie-Halpern was one such person when she came to co-found Think Zero LLC with her partner Ushma Pandya Mehta. After watching the Now This video featuring Anna Sacks, Senior Associate at Think Zero LLC and co-author of the petition to tell CVS to donate their unused merchandise, I reached out to Sarah to learn more about her story.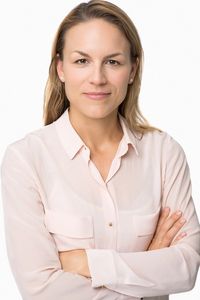 Sarah's experiences in marketing and working for the NYC Mayor's Office of Sustainability set her up on a path to zero waste. A lifelong vegetarian, Sarah always had sustainability on her mind. After running the Solid Waste and Zero Waste programs with the Mayor's office and working with different stakeholders, she realized there was a huge need for the private sector to address their waste production and that she needed to work with businesses to reduce their waste.
That is when Sarah and Ushma decided to co-found Think Zero LLC, a zero waste consulting firm specializing in helping real estate companies, schools, residential buildings and other businesses develop strategies and tangible action plans to reduce and divert their waste from landfill and incineration. Through her marketing background, Sarah recognized that behavior change was one of the most important factors in reducing waste, and that incentives (i.e. discounts) and penalties (i.e. fees) can serve as great motivators for clients and their constituents.
Now three years old, Think Zero LLC has achieved numerous levels of success with their clients, from simple switches in building sanitation practices, such as changing from single trash bins to dual bin dollies, switching to clear trash bags to hold staff accountable of the waste they throw out versus recycle, and even supporting a client's efforts to achieve the TRUE certification. They will be rolling out a self-guided waste reduction/diversion program for companies and organizations of all sizes to take part in efforts to become zero waste. Check out their website for more information!