The coronavirus disease (COVID-19) pandemic has undeniably affected all of us around the world, forcing local and national leaders to issue stay-at-home orders in their cities, states, and countries to aggressively fight the outbreak and flatten the curve. With these rules in place, essential workers are the only individuals who should be out and about, with the exception of when we need to do our necessary errands like grocery shopping or picking up prescriptions.
Unfortunately one of the (many) downsides of this pandemic is the suspension of city programs that we know and love, such as the curbside composting program in NYC (from May 4, 2020 to June 30, 2021). I want to recognize fellow environmental activist Anna Sacks for her petition to urge Mayor de Blasio to continue this program, as it is essential to more than 3.5 million NYC residents who participate in this program. Without it, we can see 308,600 lb of organics getting sent to landfills and incinerators every day (if we accept the news and don't do anything).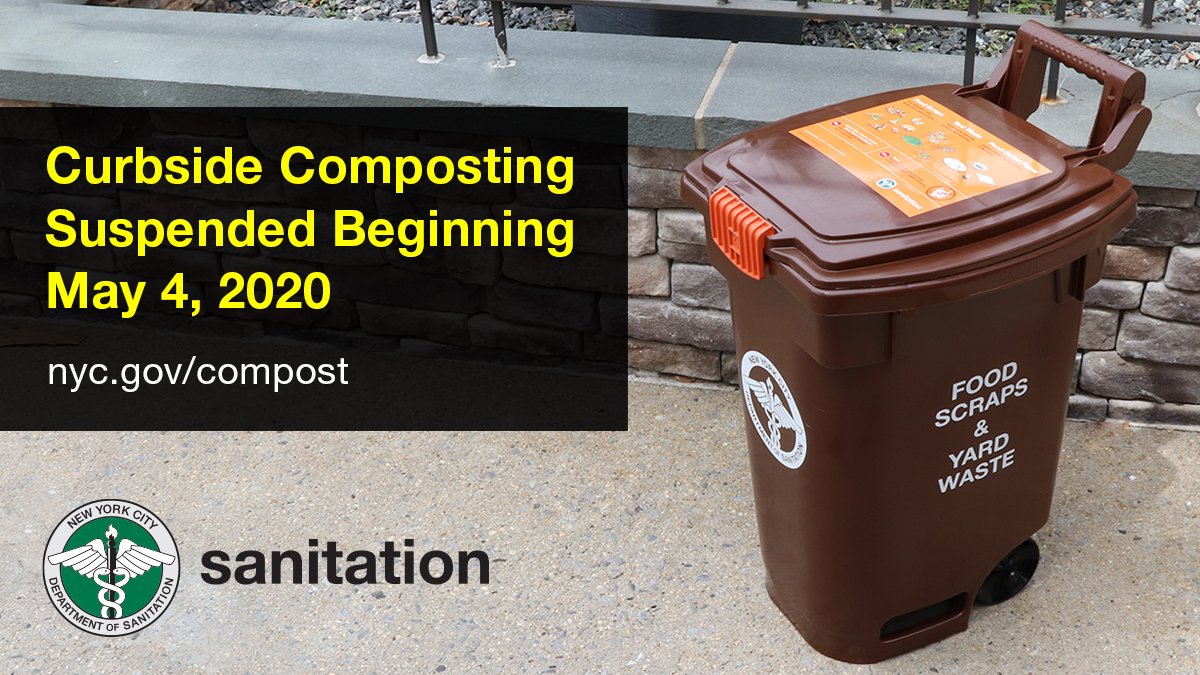 As challenging as this news is, we still have the ability to compost! Here are ways you can compost in NYC while curbside composting is suspended:
DIY Indoor Composting with a Worm Bin (Vermicomposting)
This is probably the most cost- and space-efficient option for NYC residents where many of us live in closet-sized apartments! You can make your own bin using a large plastic container with a lid and a drill (or something to poke holes). The NYC Compost Project offers a really helpful guide to help you get started.
You can purchase red wriggler worms from the LES Ecology Center and pick them up at the Union Square Greenmarket if you live in NYC, or order them online with Uncle Jim's Worm Farm.
Pro tip: Keep the worms' home healthy and avoid scraps that might harm them.
DIY Outdoor Composting
If you have outdoor space, this is a great option for you, and it can be very cost-efficient as well! There are two main types of compost bins: a holding unit (for yard waste only) and an enclosed bin (yard waste and kitchen scrap-friendly). If you want to DIY, you can find some wooden pallets for holding units (I have always seen them left on the curb or in the parking lots of supermarkets) or use an old garbage can that has a lid for your enclosed bin. The NYC Compost Project also has a useful guide if you choose this option!
Pro tip: there are various articles that will tell you how to balance your green vs. brown scraps, but you will likely have to start composting and adapt and refine what you put into your bin as you go!
Compost Pickup Services
MANHATTAN: Residents south of 100th Street are able to participate in Common Ground Compost's residential compost collection service Reclaimed Organics for a small fee per bucket ($20-25/bucket depending on location in Manhattan).
BRONX: Starting July 18, GreenFeen OrganiX will be offering food scrap pick-up for residents in Northwest Bronx for a fee of $25/month of $20 biweekly.
NYC: Throughout NYC, Vokashi is also offering food scrap pick-up for residents, starting at $40/month (neighborhood and apartment building collection options are also available, please inquire by reaching out with the contact form on the website).
For more pick-up services, visit the tracker on the third tab for some additional options: bit.ly/NYCdropofftracker
I want to note that this is not an exhaustive list of composting options (there are compost digesters and the bokashi method, for example), but simply the more feasible ways you might want to continue composting considering our current situation. I hope these are helpful and that you will try to compost at home to help offset some of the impact this suspension will have for the environment!
Since April, there have been a few parks, community organizations, and civil society members who kindly stepped up to collect food scraps in NYC. This list will be updated as more drop-off spots are opened, so if I missed a location, please fill out this form and the sheet will be updated! Every drop-off site has different items they are currently accepting, so please do your research in advance!
Thanks to NYC's collective advocacy, $2.86 million was restored to the community composting budget, which allowed for operations within the NYC Compost Project to resume collecting and processing food scraps!
Sharewaste is also a good resource for people in the community to connect with each other to share organic scraps or offer their home compost bin with people in their neighborhood. Some members are still listed here so you might have some luck if they are in your area to drop off your food scraps!